As promised since the beginning of the year, we have a new series! Today we would like to give you an inside look at the creation of a project we recently finished. For our first ever Project Spotlight, check out the Pallino full-service kiosk! We designed and built this beauty for Pallino – located inside SEA-TAC airport in Seattle, WA.
Background
Pallino is an Italian restaurant with two locations in the Puget Sound Area – SEA-TAC airport & Issaquah, WA.  SEA-TAC's central terminal is currently under construction and Pallino wanted to stay operational during the construction process.  The kiosk we built will be a temporary fixture until construction is complete.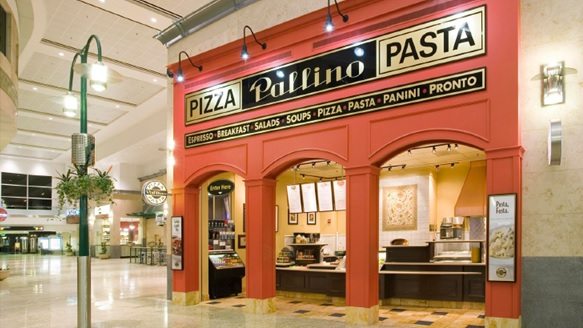 Project Process
Similar to most projects, the process began with a conversation about location, size, use, budget and timeline. Throughout this conversation, an assigned account executive uncovers important details about the project that can be used to help guide the client in selecting materials, colors, textures, and overall design objectives that will fit within a given timeline.
In this case, Pallino's kiosk is a 28' x 10' full-service kiosk which includes fire-rated materials, 200-amp, three phase electrical service and wiring for network usage. The kiosk has a front line and a backline. The front line is used for two POS stations, grab-n-go items and a hand-off area. The backline is designed with stainless steel for cooking purposes, with under counter refrigerators and huge vent hoods for safe circulation. Perhaps the most unique aspect of this kiosk is the built-in office space off the main cooking area.
Decorative details include a wood trellis covering the entire kiosk, applied vinyl graphics signage, open shelving and a classy mahogany finish.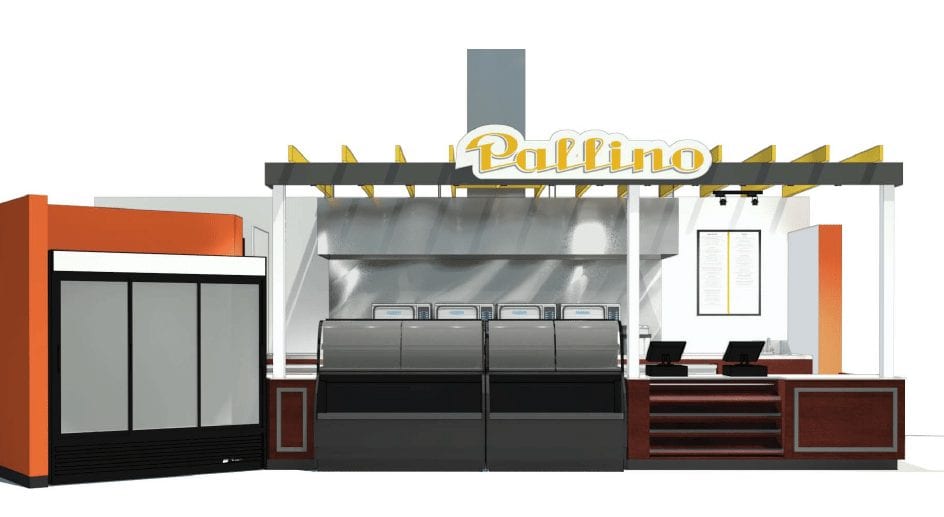 If you are passing through SEA-TAC, check out the Pallino kiosk in the central terminal, order yummy food and snap a picture that could be featured on The Carriage Works website! Tag @therealcarriageworks on Instagram or post to our Facebook page: facebook.com/thecarriageworks!
Please note, all projects coming through our shop are completely custom! Size, electrical requirements, plumbing, lighting and design finishes all vary based on our clients' needs and preferences.